Colgate Oral Care Recycling Programme
Dental on Raffles are excited to announce that we now support the fantastic recycling waste programme TerraCycle. When you have finished using your toothbrushes,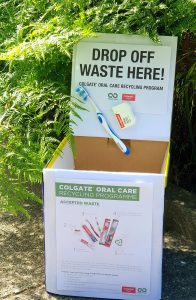 toothpaste tubes and caps, toothbrush and toothpaste plastic outer packaging, mouthwash and floss containers please bring them into our clinic Dental On Raffles, 106 Raffles Street Napier. We will collect all of these waste products and ship them off to TerraCycle.
"We'd also like to offer an incentive to collect and recycle your products by donating $1 for every toothbrush. All funds raised will be donated to The Cranford Hospice."
Accepted waste:
1. Toothpaste tubes and caps
2. Floss containers
3. Toothbrushes & toothpaste
4. Floss plastic outer packaging
5. Mouthwash bottles
*Cardboard packaging should be placed in your kerbside paper recycling bin.
We accept any brand of used toothpaste tubes, toothbrushes, plastic toothbrush packaging, floss packaging, interdental brushes, wisps, pumps, stand up toothpaste bottles and any kind of non-electric toothbrush and all affiliated non-recyclable packaging. Please use the full product before sending it in. If you have any questions, please do not hesitate to ask contact us – click here